Our dedicated, experienced and highly-educated teachers are what makes CCP so special. Both Kindergarten-readiness classes have one lead teacher with a Master's degree in Education, plus one teaching assistant. Four preschool classes and one after-school enrichment program are offered every academic year. Please visit our
Programs page for more information. Pictured below (L-R): Bonnie Warner, Karola Puffer, Jen Brown, Ciara Dougherty, and Jennifer Scalise.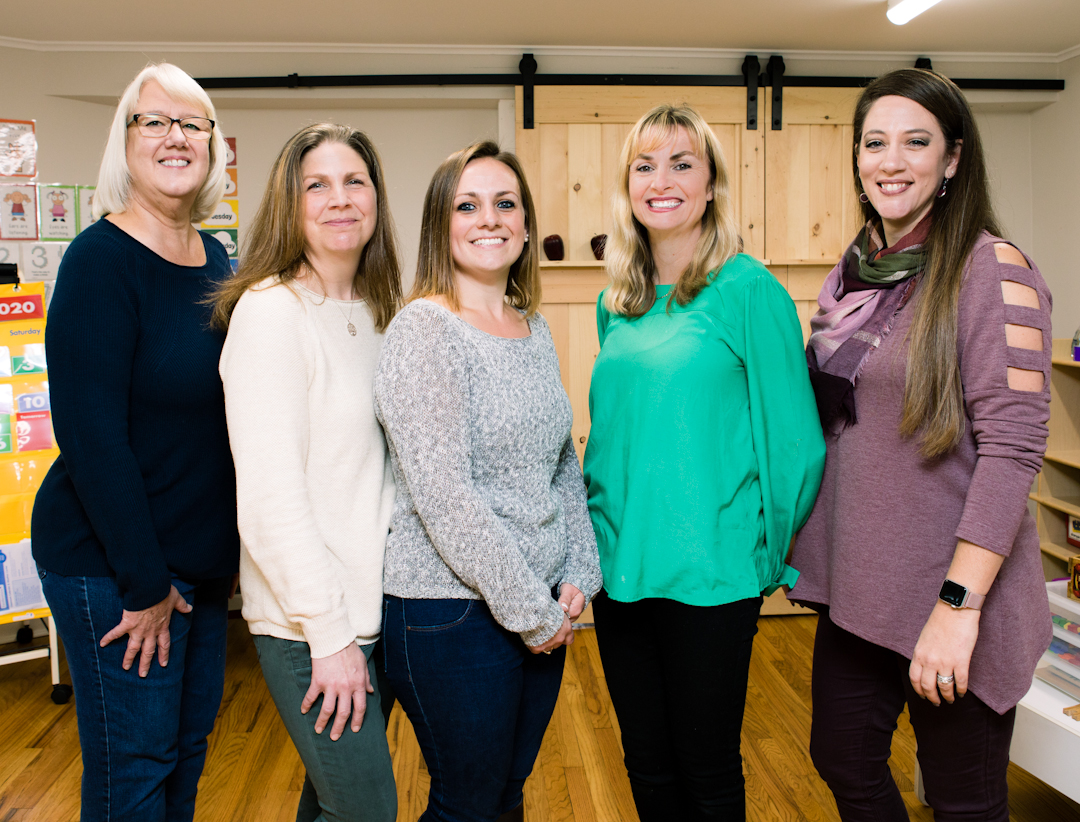 Jennifer Scalise, Director
Mrs. Scalise joined the CCP family as director in 2020. For the past 10 years, Mrs. Scalise was the director and head teacher at a preschool in Chittenango where she lives with her husband and 4 children. Mrs. Scalise also taught first grade in Oneida for 3 years.
Mrs. Scalise earned a B.S. in both Elementary Education and Early Childhood Education from Grove City College and a M.S. in Literacy from SUNY Cortland.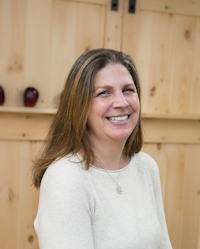 Karola Puffer, Teacher
In 2018, Mrs. Puffer became the lead teacher in the Caterpillar Kindergarten-readiness class and the Honey Bee class for three-year-olds. She joined CCP in 2014, and has previously been the teaching assistant in the Caterpillar, Honey Bee, and Monkey classes. Prior to working at CCP, Mrs. Puffer was a teaching assistant working with children from infancy up to the elementary level.
Mrs. Puffer earned a M.S. in Education from the Julius-Maximilians-Universität in Würzburg, Germany. She is amazed to see her students' enthusiasm toward learning every day, making it very rewarding to be a part of their journeys.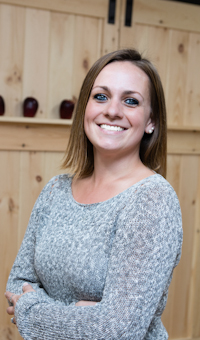 Jennifer Brown, Teacher
Mrs. Brown joined CCP in 2018 and teaches the Lizard Kindergarten-readiness class. Prior to teaching at Cazenovia Community Preschool, she was a substitute teacher in the Cazenovia and Jamesville-DeWitt school districts.
Mrs. Brown earned a Bachelor's in Elementary Education and a Master's in Literacy from SUNY Cortland.


Bonnie Warner, Teaching Assistant
Mrs. Warner joined Cazenovia Community Preschool in 2008 and is the teaching assistant to Mrs. Brown in the Lizard Kindergarten-readiness class. She feels very lucky to be a part of CCP, and believes that she and her students learn from each other.
Mrs. Warner particularly enjoys sharing her love of nature and animals with her students.
Ciara Dougherty, Teaching Assistant
Mrs. Dougherty joined CCP in 2018 as the teaching assistant for both the Honey Bee and Caterpillar Classes. All three of her children - Dennis, James, and Bridget - are CCP graduates, so she knows firsthand what a wonderful school CCP is. Before staying home to raise her children, Mrs. Dougherty was an Elementary and Preschool teacher for 10 years. She taught second grade in both the New York City public school system and on Long Island, and was a kindergarten teacher in Chittenango for three years. She even had the opportunity to teach in a Montessori preschool in London, England. She can often be seen in the village walking her Cavalier King Charles Spaniel, Rosie. She loves meeting new people, especially her preschool friends!

Cazenovia Community Preschool is governed by a volunteer board of directors, comprised of the parents of current and former CCP students, as well as members of the community. Its role is to uphold the mission of the preschool.

Cazenovia Community Preschool Board of Directors, 2022-2023
Executive Committee
Chair: Lindsay Maine
Vice Chair: Sandra Beyel
Treasurer: Chelsea Spears
Secretary: Jack Sessler
Board Members

Pollyanne Gabel
Kristen Matter
Alicia McGinnis
Olivia Raby
Susan Rinaldo
Matt Skeele

Chelsea Spears