Our dedicated, experienced and highly-educated teachers are what makes CCP so special. Both Kindergarten-readiness classes have one lead teacher with a Master's degree in Education, plus one teaching assistant. Three preschool classes are offered every academic year. Please visit our
Programs page for more information. Pictured below (L-R): Laura Rivera-McClintock, Karola Puffer, Nicole Maggio (Director), Bonnie Warner.
Nicole Maggio, Director, Teacher
Nicole Maggio joined the Cazenovia Community Preschool team in 2022 as Director and lead teacher for the Lizard class. Previously Nicole taught preschool at a bilingual international school in Shanghai, China, and at the elementary level in Hamilton, New York.
Nicole earned her Master of Science in Childhood Education from Syracuse University. She lives in Cazenovia, New York, with her husband and four children. Nicole enjoys being active in her community and volunteers with various community organizations, including serving on the Cazenovia Community Preschool Board of Directors for five years.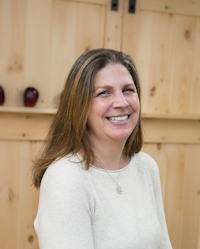 Karola Puffer, Teacher
In 2018, Mrs. Puffer became the lead teacher in the Caterpillar Kindergarten-readiness class and the Honey Bee class for three-year-olds. She joined CCP in 2014, and has previously been the teaching assistant in the Caterpillar, Honey Bee, and Monkey classes. Prior to working at CCP, Mrs. Puffer was a teaching assistant working with children from infancy up to the elementary level.
Mrs. Puffer earned a M.S. in Education from the Julius-Maximilians-Universität in Würzburg, Germany. She is amazed to see her students' enthusiasm toward learning every day, making it very rewarding to be a part of their journeys.
Laura McClintock, Teacher
Laura McClintock first joined the CCP team in 2018 as Lead Teacher for the two-year-old Monkey Class. Laura is the lead teacher for Cazenovia Community Preschool's Honey Bee Class and a teaching assistant for the Caterpillar Class.
Before joining the team, Laura taught at a preschool in the Virginia area, was employed as a special education teacher's assistant in a private school outside of Philadelphia and worked with the Special Education BOCES program at Cicero-North Syracuse High School. She also volunteered on CCP's Board of Directors where she helped build the school community through the Parents Committee.
Laura lives in Cazenovia with her husband and three boys who attended CCP.



Bonnie Warner, Teaching Assistant
Mrs. Warner joined Cazenovia Community Preschool in 2008 and is the teaching assistant to Mrs. Brown in the Lizard Kindergarten-readiness class. She feels very lucky to be a part of CCP, and believes that she and her students learn from each other.
Mrs. Warner particularly enjoys sharing her love of nature and animals with her students.
Star Reed, Teaching Assistant
Star Reed joined CCP's team in 2020 and is the teaching assistant for the Honey Bee class. Star Reed lives in Cazenovia, New York, with her husband and three children. She has over a decade of experience providing at-home childcare to members of the Cazenovia Community. Cazenovia Community Preschool holds a very special place in her heart, as all three of herchildren attended CCP.
Cazenovia Community Preschool is governed by a volunteer board of directors, comprised of the parents of current and former CCP students, as well as members of the community. Its role is to uphold the mission of the preschool.

Cazenovia Community Preschool Board of Directors, 2022-2023
Executive Committee
Chair: Lindsay Maine
Vice Chair: Sandra Beyel
Treasurer: Chelsea Spears
Secretary: Jack Sessler
Board Members

Pollyanne Gabel
Olivia Raby
Susan Rinaldo
Matt Skeele

Lauren Wood
Grace Gara
Joe Donnelly
Lindsey Henning
Kandice Fuchs
Justin Fuchs
Lauren Suarez Rivera